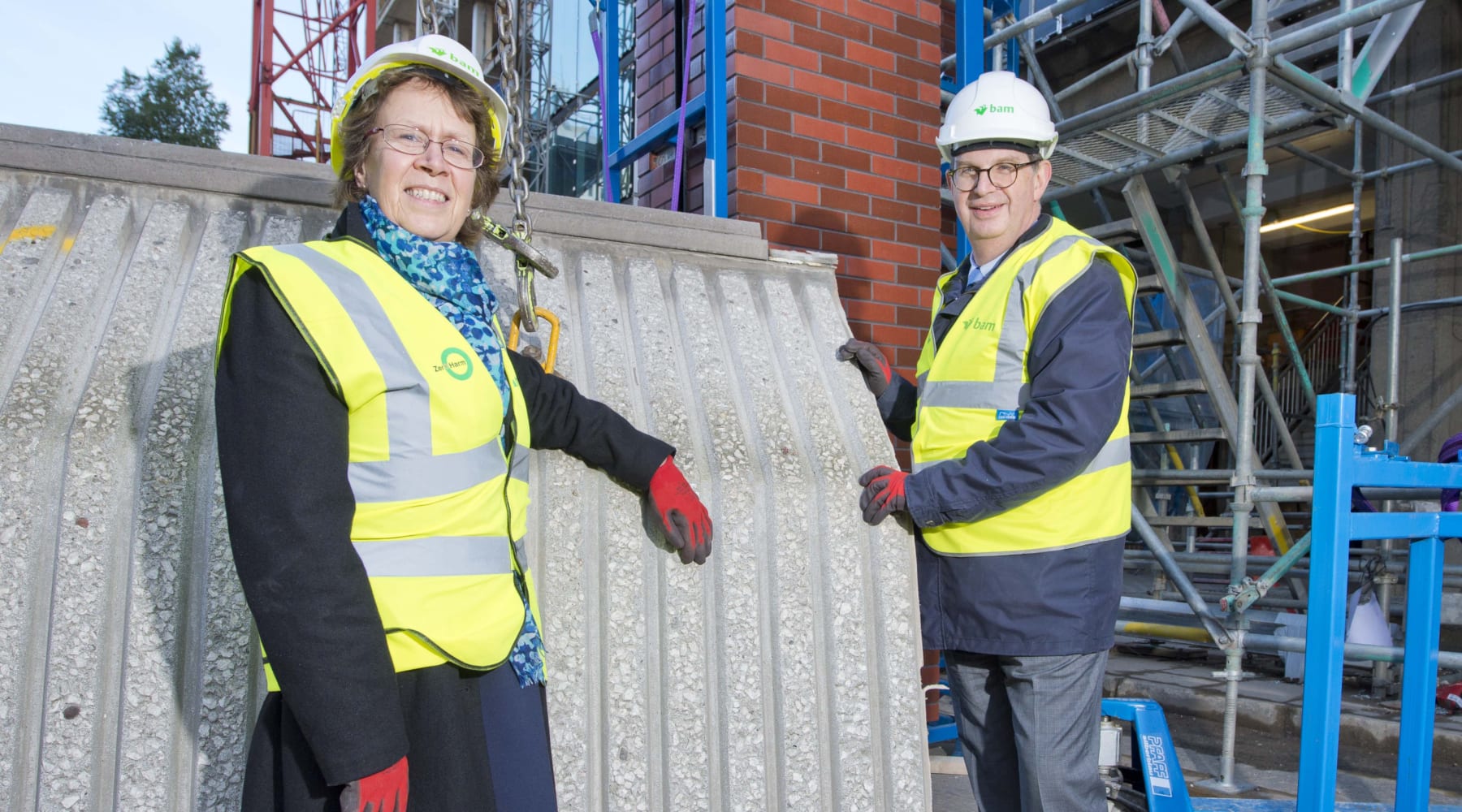 New facade of Merrion House takes shape
November2016
The 170,000 sq ft office space is jointly owned by Town Centre Securities Plc and Leeds City Council as part of a long-term partnership between public and private sectors. BAM Construction, a local company, were appointed earlier this year to deliver the project.
The new façade of Merrion House is beginning to take shape in Leeds City Centre, as the final concrete panel is removed and BAM Construction continue the installation of the building's glazing and cladding.
Two tower cranes have been in place to lift panels from the building, one strip at a time, before the new glazing and curtain walling were installed using mast climbers. This method has allowed the building to remain substantially watertight, as well as keeping everyone safe on the ground within the city-centre site.
The concrete panels have been taken away to a quarry in Bramhope, Leeds, where they have had the steel reinforcement extracted and recycled before the remaining concrete is crushed and certified for reuse for other construction projects.
"Deconstructing the ten-storey building, before recladding and refurbishing is a huge task. There were 705 concrete panels to strip off the building, each weighing between two and four tonnes, before modern cladding could be installed. Months of meticulous planning are now paying off and it is great to see the new look taking shape".

– Simon Sutcliffe, Project Manager, BAM Constructions
Edward Ziff, Chairman and Chief Executive, Town Centre Securities, said "Real progress is being made with the redevelopment and the revitalised Merrion House will be another key component to the northern side of the city centre, complementing the nearby Merrion Centre and Arena Quarter, and supporting the continued economic and cultural growth of the area".

Merrion House was originally constructed for use by Leeds City Council in 1973 and now, over 40 years later, is undergoing significant refurbishment in order for the council to return with all public facing services under one roof. This is part of a plan to reduce the number of council buildings in the city centre from 17 to just 4. It is estimated one thousand people per day will use the new city centre customer hub which will complement local community hubs being rolled out in various locations around Leeds.

Councillor Judith Blake, Leader of Leeds City Council, said: "It is good to see further progress being made as this is an important move for the council in being able to operate as efficiently as possible both in the city centre and in local communities. Having all public facing services under one roof will make it easier and reduce multiple visits to different offices".

Back To Top

Town Centre Securities PLC (TCSC.L)

286.60

-1.40

Last updated: 23/07/2018 at 11:09